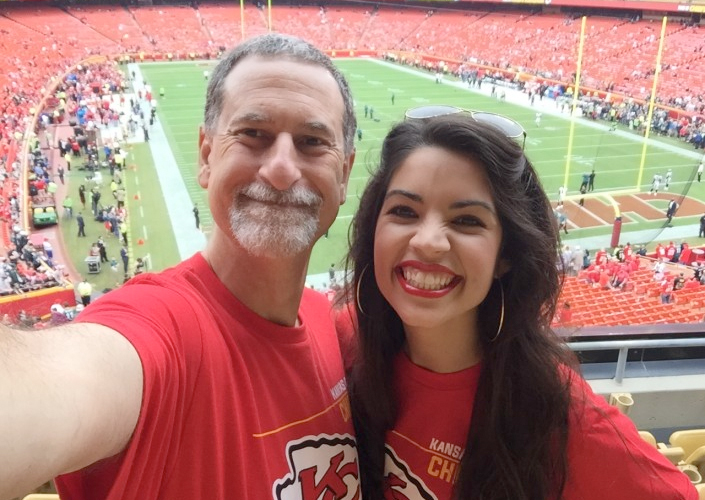 Last weekend I took my daughter Taya to see Alex Smith and the Kansas City Chiefs play the Philadelphia Eagles. It was awesome! Now I have to be honest, being at Arrowhead, and watching the Chief's win was great, but connecting with my daughter was the best part of the whole experience!
We had so much fun!
We laughed. And Taya was goofy. Ok, we both were! And when the big Tron put us right in the middle of its screen, we danced…and laughed all the more. Yes–we were on the big screen–just the two of us. It was Totes awes!  (A new abrev I made up and hope goes viral! Meaning: "totally awesome!")
We stood more than we sat. And we enjoyed a classic jumbo hotdog with all the fixings (including onions!) and chips. Throughout the game, we yelled and screamed like everyone else–in the loudest stadium in the world! I noted to Taya, how all the fans made as much noise as possible when the opposing team had the ball–to make it difficult for the line to hear the quarterback's call. And then of course when we had the ball, the stadium grew quiet so our team could listen well. (A plug for the importance of listening!!)
It was during an officials' timeout in the fourth quarter because of an injured player on the field, I noticed something that really caught my attention.
Alex Smith was on the sideline practicing with the center. Did you catch it? (No pun intended!) Our quarterback was on the sideline practicing hiking the ball with the center. What? I pointed it out to my daughter and said: "how many times do you think he has done that?" She answered: "thousands of times!" And I agreed. No doubt he has stood in that position and received the ball from the center thousands upon thousands of time in his career even stemming back to his childhood.
So why would he keep practicing?
Maybe in the last snap, something went wrong and he wanted to figure it out. Maybe it was a new center. Perhaps he simply wanted to keep his fingers nimble and that was the best way he knew how. It's also quite possible he knew that every play he executed began with the snap–and he couldn't afford for that to ever go wrong. Maybe he was thinking "practice makes…PERMANENT!"
For whatever reason, Alex Smith was still practicing the basics!
If that was the case for Alex Smith to be successful in the game, how much more do you and I need to keep practicing the basics of communication like PLEDGEtalk to be successful in our relationships? Time and again I see people having a difficult time talking with a spouse, a family member, a boss, or an employee. I even see people who have attended our PLEDGEtalk conference and the next day struggling big time in their communication with others. And I ask: are you pausing before you speak? Are you listening–really listening to understand what they are saying? How do you know for sure if you understood them correctly–have you echoed back to check? And are you validating their perspective? THESE ARE THE BASICS! Are you practicing them day in and day out? If not, you are likely to fumble the moment the conversation is snapped into play and quite possibly lose the game.
Remember:  PRACTICE MAKES PERMANENT!
Practice every day what makes for successful communication!  And enjoy your relationships to the fullest!
Can't wait till the next time I get to spend more time with my daughter. It will be "totes awes!"
(Laugh and learn as you watch on our PLEDGEtalk Facebook page, the video of Taya and I discussing this post on our way home from the game.  And Like our page while you are there!)
https://pledgetalk.com/wp-content/uploads/2017/09/MarkKCGame.jpg
500
705
Mark
https://pledgetalk.com/wp-content/uploads/2017/06/PLEDGEtalk_White_web2.png
Mark
2017-09-22 07:16:39
2017-11-11 12:02:11
Alex Smith and A Critical Lesson On Communication--From a Quarterback!